::CANCUN AIRLINE CONNECTIONS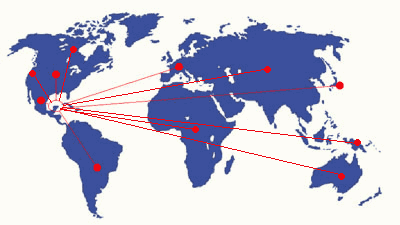 The airlines of SKYTEAM, Official Alliance Network for FRAY INTERNATIONAL SYMPOSIUM, offer attractive airfares for participants. SKYTEAM comprises 9 leading international airlines: Aeroflot, Aeromexico, Air France,Alitalia, China Southern Airlines, CSA Czech Airlines, Delta, KLM, Korean Air, serving 856 destinations in 169 countries with 13,133 flights daily. To benefit from these special offers, link up with www.skyteam.com/GlobalMeetings and quote the Identifier Code. Through this site you can also access the schedules of all SkyTeam partners to plan your flights on the airline of your choice.

Identifier Code: 0970S


---

American Airlines (AA) is the official American/One World Group of Fray International Symposium. AA offers to all attendants discount rates of 5 % off the applicable discounted fares to all domestic points where AA has service and to international points that are served by the following oneworld partners and their subsidiaries:
| | |
| --- | --- |
| AA - American Airlines | BA - British Airways |
| CX - Cathay Pacific | QF - Qantas |
| AY - Finnair | IB - Iberia |
| LA - Lan | MA - Malev Hungarian |
| JL - Japan Airlines | RJ - Royal Jordanian |
Discounts are valid for the period from November 18- December 9, 2011 and will apply to discountable fares where American Airlines, American Airlines codeshare (except Alaska Airlines and Horizon Air), or oneworld alliance partners are involved. AA must be the governing carrier. The use of American Airlines codeshare will require that one segment of the itinerary be on AA metal and (**) the discount be no greater than 5%. All fare rules and restrictions apply.
Tickets can be purchased through the American Airlines website, www.aa.com free of charge sing the authorization code given below. Use also AA Meeting Services Desk for reservations and ticketing. Valid for travel to/from all markets where American Airlines, American Eagle, American Airlines codeshare, and all oneworld carriers provide service.

Authorization Code: A79N1AQ
---

Air Canada is the official Canadian airline for FRAY INTERNATIONAL SYMPOSIUM. Special Rates are guaranteed by Air Canada for all attendees of the symposium. These rates are valid from Friday, November 18, 2011 and ends Friday, December 09, 2011. To book a flight the attendees need to access www.aircanada.com and enter the following promotions codes in the search panel.

1- Promotion code: FQ4UZNY1
2- Promotion code: QCBPU341
---

AVIS Rental Car discount.
AVIS Rental offers also discounted rates for all attendants of Fray International Symposium for a travel window 3 days before and 3 days after the actual meeting dates. When doing the reservation enter or mention the following authorization code:

Authorization Code: A79N1AQ
::EASY PROCEDURES TO VISIT MEXICO
According to Reciprocity agreements with Government of Mexico:
Citizens of many countries do not need advance visas to enter Mexico for conference or tourism. A simple procedure is only required in the arrival airport.
Citizens of other countries that require advance visas need to follow the simple procedures as outlined in the Mexican Consulates/Embassies in their country or covering geographical area. A list of the Mexican Consulates and Embassies are given below along with a hyperlink to their web Sites. Generally it is a very simple procedure to obtain a conference or tourist visa for Mexico.
The foreigner whose country is not on the list, and would therefore require a visa to enter Mexico, can enter the country without the need of a visa, if they have a valid visa to enter the United States of America.
More information
Letters of Invitations, if necessary, can be obtained by clicking at Generate Invitation Form
USA Transits: The attendees that chose to come to Mexico through USA may need a proper US transit or tourist visa according to reciprocal agreements with government of USA. If you choose to fly directly to Mexico directly or from a third country you do not need a USA visa. Many options are available for direct flights. For more information please check the link "Cancun Airline Connections" .
::VISA INFORMATION